When these perfectly round, golden buns emerge from the oven, there's no doubt that you'll be glowing with pride. Soft, springy and mildly sweet.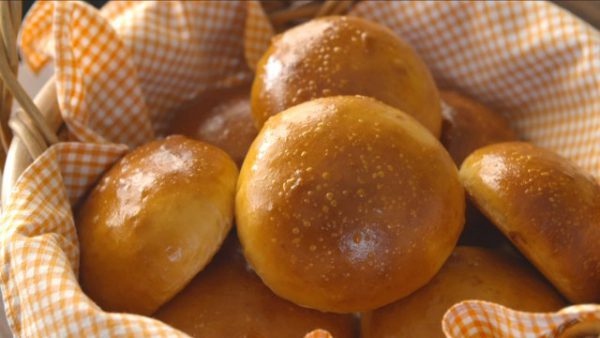 | | |
| --- | --- |
| | |
Combine the warm water, milk, yeast, and sugar in a bowl. Cover with plastic wrap and leave to stand for 5 minutes or until there are bubbles on the surface.

Combine the flours and butter in the bowl of a stand mixer fitted with the paddle attachment and beat until you have a crumbly mixture

Change to the dough hook attachment, add the egg and the yeast mixture and knead on the lowest setting for 5 minutes, then add the salt. Continue to knead for another 5 minutes or until the dough becomes smooth, sticky and elastic.

Knead a few times to form the dough into a ball, then place in a lightly greased bowl. Cover with plastic wrap and leave in a warm draught-free place until the dough has doubled in size (about 2 hours)

Transfer the dough to a floured workbench, then punch down and roll into a sausage shape. Divide the dough into equal portions (about 35-40 gramms each)

Form round balls and place on baking tray covered with baking paper.

Preheat the oven to 200˚C.

Let the dough rise again for 30 minutes.

Mix the egg together with 20 ml of milk (egg wash) and brush each bun well with the egg wash and bake on the middle shelf for 15–20 minutes or until golden brown.

Then cool on a wire rack before serving.